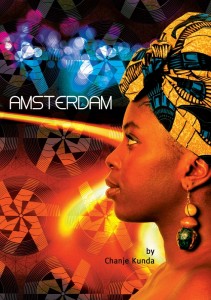 Nominated for Best Studio Performance by the Manchester Theatre Awards, 'Amsterdam'  is a theatre show that was adapted from Chanje Kunda's own collection of poetry of the same name, which was published by Crocus Books.  Amsterdam has secured a National Tour of UK theatres for Autumn 2014.
'Highly Imaginative… Amsterdam is so lively and moving that there can be no barriers to audiences having a very good time indeed.' Dave Cunningham What's On Stage, 4 Stars
'Richly textured, poignant, funny, gloriously descriptive, cleverly constructed'Judy Gordon, Write Out Loud
Tour Dates can be found here https://www.chanjekunda.com/tour-dates/
This solo performance explores what happens when you abandon your responsibilities to pursue your dreams.It is a theatre piece that utilises a spoken word narrative with the visual elements of live art and dance, and a cinematic sound scape to create a unique performance for theatre.
Photography by Miklos Cseply Knorr More Photo's click  https://www.chanjekunda.com/amsterdam-performance-rehearsal-photographs/
'The language shimmers and dazzles with its exuberance, sass and invention,' Pete Kalu, Cultureword
'The work she has developed has shown ingenuity and progress for the sector ' Teresa East, Home Grown Producer Contact
Written and performed by Chanje Kunda, directed by Juliet Ellis, design by Giulia Scrimieri, movement direction by Darren Pritchard, sound design by Dan Steele, it promises to be one hell of a ride. The  nature of the show attracts not only theatre audiences, but also spoken word, music and live arts audiences.
Juliet Ellis is both a film and theatre director and a highly successful actor. So Blessed to be working with her, She directed the Award Winning Bro 9 with Segun Lee French and has been prolific in her own creativity. I am so intrigued by her beautiful spirit, and can't wait to get into the rehearsal room with her. (www.julietellis.com)
Darren Pritchard, an incredible Manchester based choreographer who has had success both in the UK and around the world. He has choreographed for numerous music videos, set up an award winning dance academy, and co-produced and starred in the international hit 'Susan and Darren'. I can't be more superlative about him, I have longed for ages to be choreographed by him. This is it!!!!!
Dan Steele creates a cinematic sounds (Music & Sound Design) Dan is a musician, composer and sound designer who has worked for companies including Gecko, Red Ladder, English Touring Theatre, the National Theatre, Breaking Cycles, 20 Stories High and Birmingham Rep, amongst others. As one half of Mellor & Steele, Dan co-created the duo's successful debut show Anthropoetry
Giulia Scrimieri (Design) trained in Fashion Styling (Marangoni), joined Motley Theatre Design and also studied dance at Birkbeck. She designed costumes for Royal Academy of Music, New Sussex Opera, Birkbeck University, Grimeborn Festival and Dartington. Giulia has designed theatre shows for Throwdown, Finborough, Old Red Lion, Union, Pleasance, Diorama, Battersea Park School and Theatre 503, as well as dance shows for The Place, Laban, Stratford Circus and Cloud Dance
To book the show email the producer:  milan.govedarica@gmail.com or via the contact details on the Contacts page