Playwright, Poet and Performance Artist: Chanje Kunda
Based in Manchester, Chanje Kunda performs nationally and internationally. As a poet she has performed alongside some of the most influential modern poets including Benjamin Zephaniah and Linton Kwesi Johnson. Some of her prominent performances as a poet include features at The Royal Albert Hall London, Calabash Literature Festival Jamaica, Black Magic Woman Festival Amsterdam,  Apples and Snakes at Soho Theatre and the Latitude Festival.
She has also been published in literary Journals, anthologies as well has having a full length solo collection published by Crocus books. She beat off stiff competition and won the Verb New Voices Award, run by the BBC, New Writing North and Arts Council England. Her new work was featured on BBC 3 Programme The Verb Hosted by Ian McMillan in autumn 2015.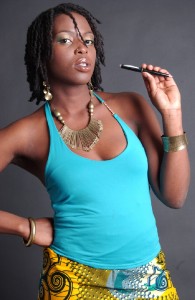 As a playwright she has had 2 full length plays produced which received critical acclaim. Her latest play Amsterdam was adapted from her collection of poetry and toured the UK in 2014 and 2015. In 2016, the show toured South Africa, including featuring in the main Programme of the National Arts Festival in Grahamstown and the 969 in Johannesburg . It was also selected to be shown at the Southbank in London as part of the Africa Utopia Festival.
The show  seeks to revolutionize the spoken word theatre genre by combining the visual elements of Live art and contemporary dance with the beauty of an epic poem.  Woven into a tight dramatic narrative, the piece is part autobiography, part travelogue, part lyrical drama. It explores what happens when you abandon your responsibilities to chase your dreams? More information can be found following this link https://www.chanjekunda.com/latest-project-amsterdam/
As a performance Artist Chanje has been experimenting with an abstract and pictorial style of performance, since working with director and performance artist Juliet Ellis on her show 'Amsterdam'. Chanje has produced a piece of performance art entitled #ICantBreathe for digital media as a way of using art as activism. She is currently working on a performance art piece entitled 'Superposition' using movement, that explores perceptions of the female body and sensuality.This will be shown at The Black Gold Arts Festival in Manchester in October 2016 as part of an event called Divergency, based .
Chanje has been artist in residence at Central Manchester Hospitals and Manchester Museum, The Harris Art Gallery and Museum in Preston, and also the Whitworth Art Gallery, where she did performance poetry installations and lead participatory literary projects inspired by the collections. Chanje also won a year long Artist Residency in 2012 at the Heesterveld Creative Community in the Amsterdam, Netherlands where she performed extensively, not only in Amsterdam, but also in Rotterdam, Eindhoven and Groningen.  .
Previous Theatre Productions include:
The Last Taboo produced by Apples and Snakes for The Bolton Octagon.
Blue Black Sister: developed for and performed at the Royal Exchange Theatre in Manchester, this show  fused dramatic spoken word, music, photographic image and digital film.
Grace: Chanje was a performer in the Quarantine Theatre Show ' Grace'. Quaratine is an award winning experiemental theatre Company whose success spans the globe. They continue to be innovative, inventive, and unspeakably creative. It was an honour to be selected to work with them.