SUPEROSITION premieres at the Lowry on 26th and 27th October 2017 and tours nationally this Autumn and again in Spring 2018. Tour Dates are below.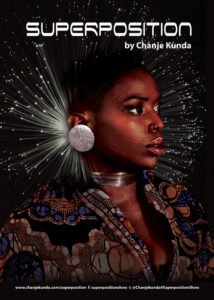 In an age where women's eroticism is commodified and cheapened, CHANJE KUNDA searches for new ways to celebrate female eroticism and presents her findings in a paradoxical but hugely entertaining one woman show.
SUPERPOSITION will take you down the rabbit hole of physics: from the quantum world of the tiny to the expanses of the universe – via a lap dancing club – seeking to answer the big questions in life:
What are the real laws of attraction?
How do we satisfy our longing to connect?
What is my place in the universe?
What makes me, me?
Science; Sensuality; Spirituality and Self … and how our bodies magically mirror the universe through a constellation of particles shimmering within us. Chanje uses spoken word,  live art and dance fusion to present her findings in a paradoxical but hugely entertaining one woman show.
The show is directed by Peader Kirk  will premiere 26/27th October 2017 in Lowry 
AUTUMN TOUR 2017
THE LOWRY: Thu 26 & Fri 27 Oct. 8pm:
0843 208 6010
https://www.thelowry.com/events/chanje-kunda-superposition
KEY, PETERBOROUGH: Thu 2 Nov. 7.45pm:
01733 207239
https://www.vivacity-peterborough.com/whatson/theatre-and-arts/superposition/
SOUTH HILL PARK: Tue 7 – Wed 8 Nov. 8pm:
01344 484123
http://www.southhillpark.org.uk/events/superposition/
STRATFORD CIRCUS: Thu 9 – Fri 10 Nov. 7pm:
020 8279 1080
https://stratford-circus.com/event/superposition/
CAMDEN PEOPLES THEATRE: Tue 14 – Wed 15 Nov, 9pm: 020 7419 4841
https://www.cptheatre.co.uk/production/superposition/
LANCASTER ARTS : Thu 23rd Nov, 8pm:
01524 594151
https://www.lancasterarts.org/whats-on/chanje-kunda-superposition
Writer & Performer:  Chanje Kunda
Director: Peader Kirk
Lighting: Nigel Edwards
Choreography & Movement: Darren Pritchard & Fay Warne
Producer: Michaela Waldram-Jones: michaela.waldram.jones@gmail.com
Supported using public funding by Arts Council England
SUPERPOSITION is Developed With The Lowry & was originally                            Co-Commissioned by Contact, STUN and  hÅb for Works Ahead with support from Divergency. Supported using public funding by the National Lottery through Arts Council England.